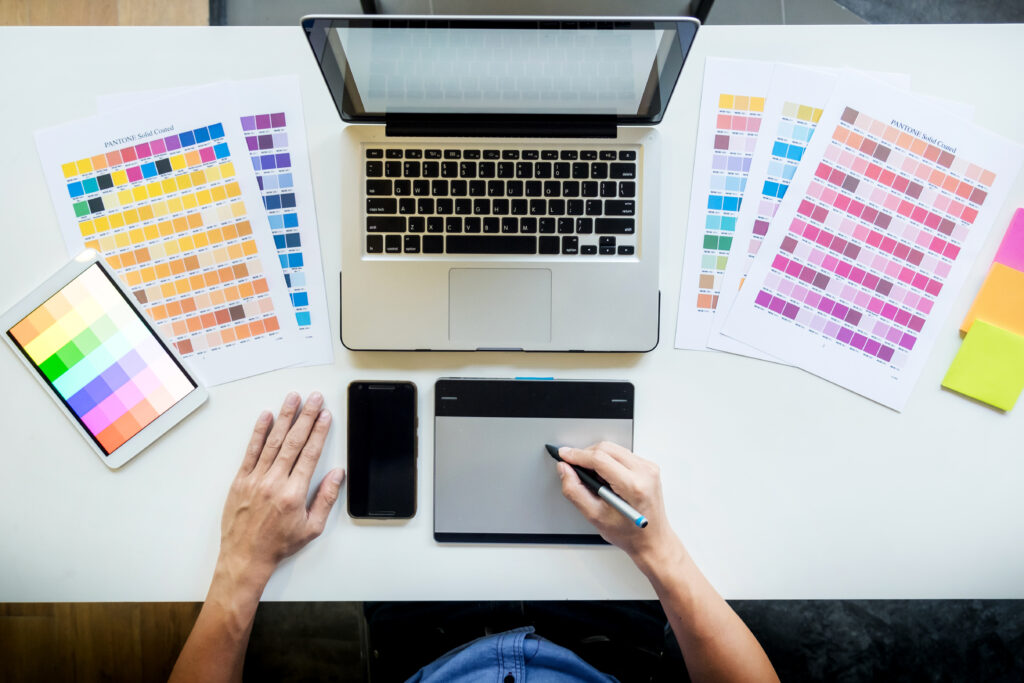 WHAT IS GRAPHIC DESIGNING, AND WHY SHOULD YOU LEARN ABOUT IT?
Have you ever got fascinated by artistic advertisements? Eye-catching graphics on online sites? Incredibly arranged layouts in magazines? This is what Graphic designing is.
Graphic designing spreads certain thoughts or messages visually. These visuals can be pretty simple as a company logo or as complicated as fancy page formats on a website. In businesses, graphic designing is used for various purposes. Whether they are brand logos, visiting cards, brochures, posters, letterheads or social media posts, all of them are created through graphic designing.
WE ARE HERE TO SERVE YOUR GRAPHIC DESIGNER NEEDS.
So are you looking for a way to express your newly launched or old brand with typical designs with several modern designs and templates for different purposes created just for you by a professional designer? Then you are at the right place. Affiliotech, a revolutionary graphic design company, offers its services in diverse fields of visual design. Maybe the picture you captured is not professional enough to be uploaded on your social media account or website page. Our designers at Affiliotech can edit, manipulate, colour grade, remove or sharpen features to make your image look real. Photoshop, Illustrator, InDesign, Sketch, our experts from all over the world are making their mark in these modern graphic designing softwares.
WHY AFFILIOTECH?
Furthermore, from print media to digital marketing, we create designs for each category. Our experts are at your service to take your brand to higher extremes by offering competitive prices with innovatively stunning designs. Along with this, we are consistent at promoting your brand message that will keep your customers updated with your content. Keeping your target audience in mind, we create aesthetically pleasing and convincing designs for your websites, social media accounts and paper stuff. All of this will result in increasing your engagements, outshining your brand names, greater sales name and spreading your brand awareness.
GET IN TOUCH WITH AFFILIOTECH.
So what should be your next step? Set up a brief of your demands and get in touch with us. After getting done with your project, we will provide you with low and high-resolution files so you can reproduce anything you need. Pitch us on the contact number mentioned in the footer, or see you on the opposite side of the email!