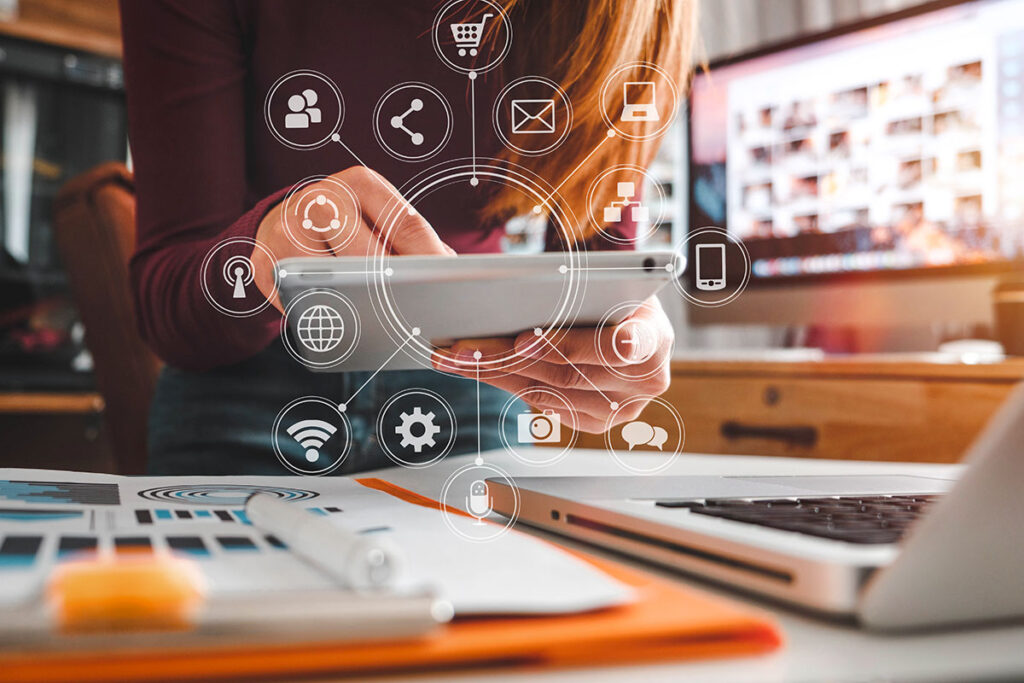 BUILD YOUR SOCIAL MEDIA MARKETING STRATEGY WITH US.
Choosing social media marketing over traditional marketing is like going from sending letters to using cell phones as the mode of communication. As you can see that the latter method is more effective than the prior one; the same goes for social media marketing versus typical marketing through print media.
Each organization has its different goals and mission but has the same approach of reaching their consumers to reach more and more people. Social media marketing is that solution to make you accessible and available for the audience you want and offer your products and services to them no matter in which corner of the world they are sitting at that time.
AFFILIOTECH- A ONE-STOP SOLUTION FOR YOUR SOCIAL MEDIA MARKETING CAMPAIGNS.
Understanding the need for social media marketing in the present world is crucial, but finding a perfect social media marketing agency for such a purpose is a tough decision. And in order to have your back, we at Affiliotech are at your service to take your brand promotion to a higher level.
Created by a team of entrepreneurs and digital marketing experts of Pakistan, Affiliotech serves companies, whether local or global, by building deals and marketing plans that amplify client procurement and income. Moreover, Affiliotech takes the time to listen and understand your organizational goals and needs to come up with a customized strategy to reach that milestone. Our social media marketing services are consulting and management methods for various online advertising strategies, including
Search Engine Optimization (SEO)
Search Engine Marketing (SEM)
Digital Advertising.
Content Marketing and many more.
To get into the detail of social media marketing- the hotshot for trending online marketing, we offer services on various online platforms such as Facebook, Instagram, and Pinterest.
Facebook Marketing: All around the globe, 2.7 billion people use Facebook on a monthly basis to connect with their friends and family and explore things that matter. We at Affiliotech find you new customers and help you build long-lasting relationships with them. Other than that, we suggest several Facebook marketing tips to boost your reach on an international level. To put a cherry on the top, we also offer a variety of Facebook marketing packages to provide you digital marketing services according to your affordability.
Instagram Marketing: Even though Instagram marketing is not that handy as Facebook. It takes more effort to reach the top and then offers substantial engagement for your brand. Each day the consumer market of Instagram is increasing, and we know how to take your brand on the front of Instagram marketing. Following different marketing strategies, we increase your brand awareness by catching the trendy influencer's attention. Moreover, our social media marketing services will grow your customers by making them feel awe over the fascinating content generated by us that welcomes clicks and comments.
Pinterest: Pinterest can be used to feature your particular digital marketing efforts, such as your blog posts, image publishing, and content offering. Affiliotech compliments the value of estimating and comprehending data to enhance campaigns. We do not typically imagine the best after publishing your advertisement but also operate its performance keenly to regulate how to improve and perfect the process.
Despite your size, spending plan, or industry, we are also anxious to touch off your brand's force. Reach us today to dive deeper into our social media marketing administrations. Don't just partner with any social media marketing agency; work with a company you can trust.